olidhomes.com – The bathroom may be the smallest room in the house. Or, the bathroom is the most closed room (not exposed). Even so, the bathroom is the room that is used most often. The appearance of the bathroom is also something to consider. Try to give an interesting touch to the bathroom walls. That way, the bathroom will look more charming. And in this article, we have summarized 30 Attractive Bathroom Wall Decor Ideas that you can use as a reference. So, let's check it out!
1. Wallpaper
Wallpaper is the easiest option that can make bathroom walls look attractive. In addition, the many motifs and colors are the advantages of wallpaper.
In decorating the bathroom with wallpaper, you do not need to apply it as a whole. Select some parts of the wall. As in the picture above, the wallpaper is only applied to the mirror area.
2. Letters Wall Art Bathroom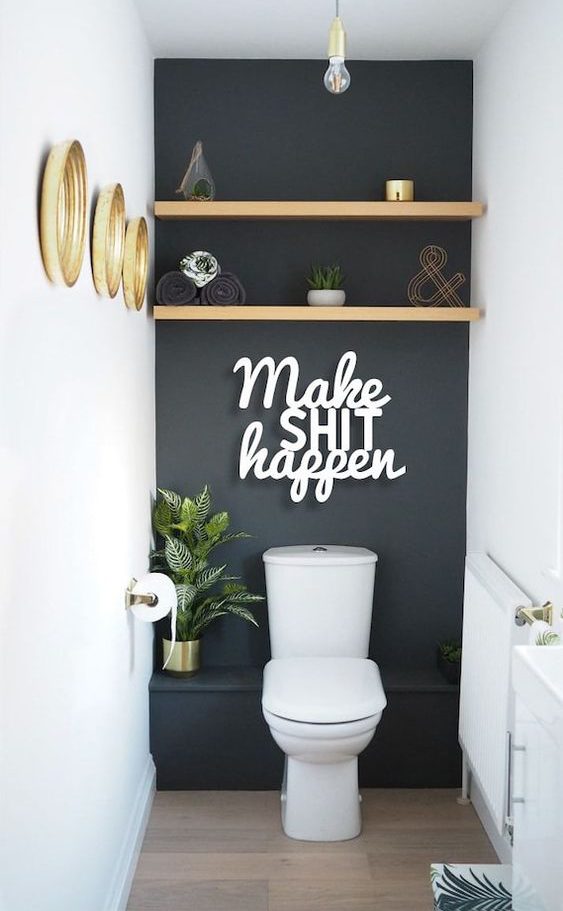 Letters wall art is the next decoration that you can choose to decorate an empty wall in the bathroom. You can choose a contrasting color so that the letters wall art can be seen clearly. Like letters wall art in white for black painted walls.
3. Unique Rustic Bathroom Wall Decor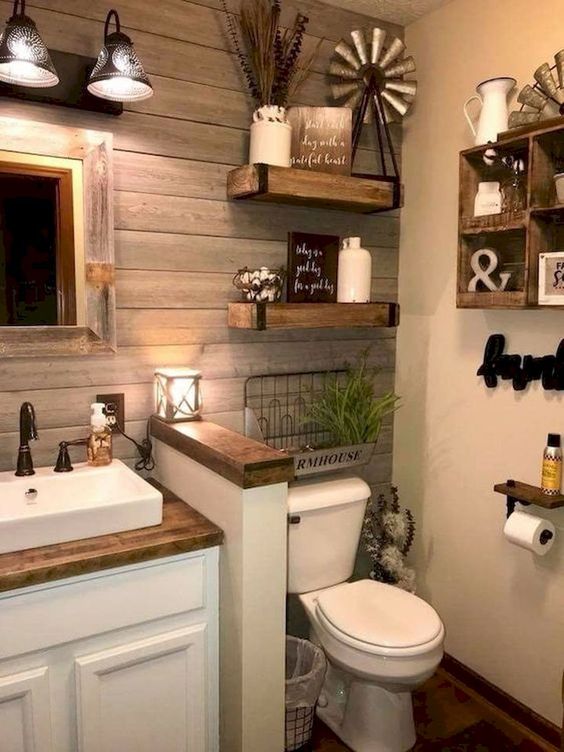 The next of 30 Attractive Bathroom Wall Decor Ideas is unique rustic bathroom wall decor. Wooden walls with rough surfaces are the hallmark of the rustic style. The floating wall shelf was chosen as a place to put some beautiful displays, such as flower vases, letters framed, and so on.
4. Modern Wall Decor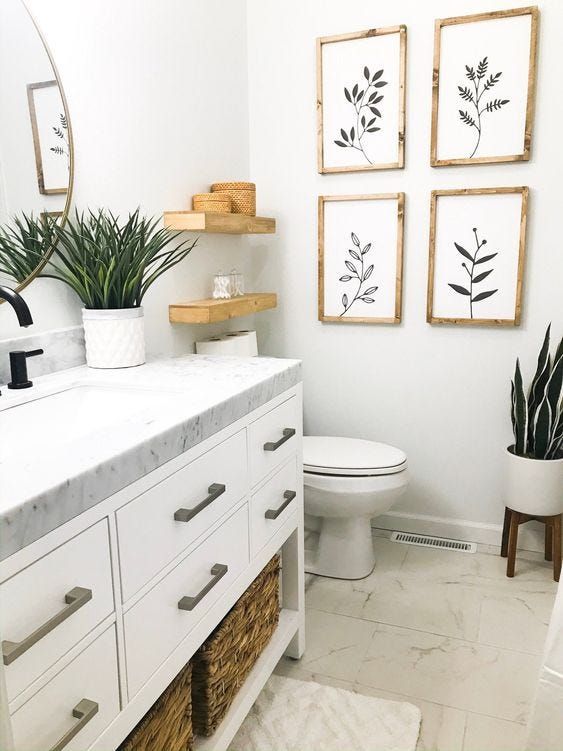 Modern concept decoration can also make the bathroom look beautiful. 4 leaves printed paintings look beautiful with wooden frames. It is suitable for displaying on a whitewashed bathroom wall. So that the appearance given will seem more natural and minimalist.
5. Simple Bathroom Wall Decor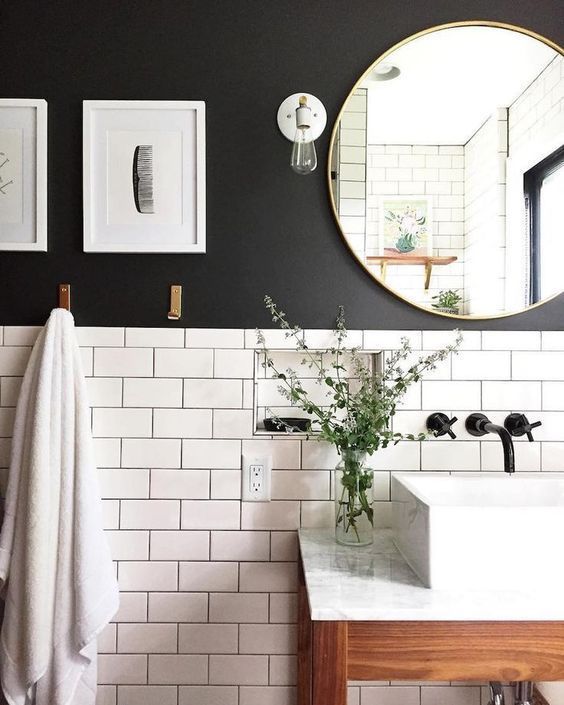 Make the bathroom walls look attractive, no need to use complicated displays. Because the simple concept is also able to give a more beautiful effect on the bathroom.
As in the picture above, the comb printed-painting with a white base looks so beautiful when hung on a black painted wall. The white frame makes the painting look bigger on the wall.
6. Stunning Wall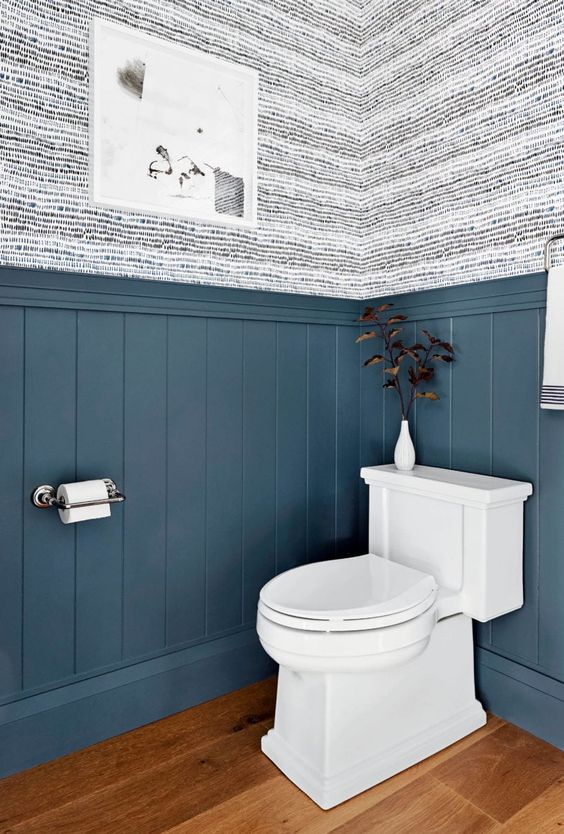 This one decoration is very charming. The board and batten are made from the middle to the bottom of the wall. And on the top, textured wallpaper is applied that makes the walls look attractive but still simple. Simple white painting is a complement to the attractiveness of this one wall decoration.
7. Attractive Old Picture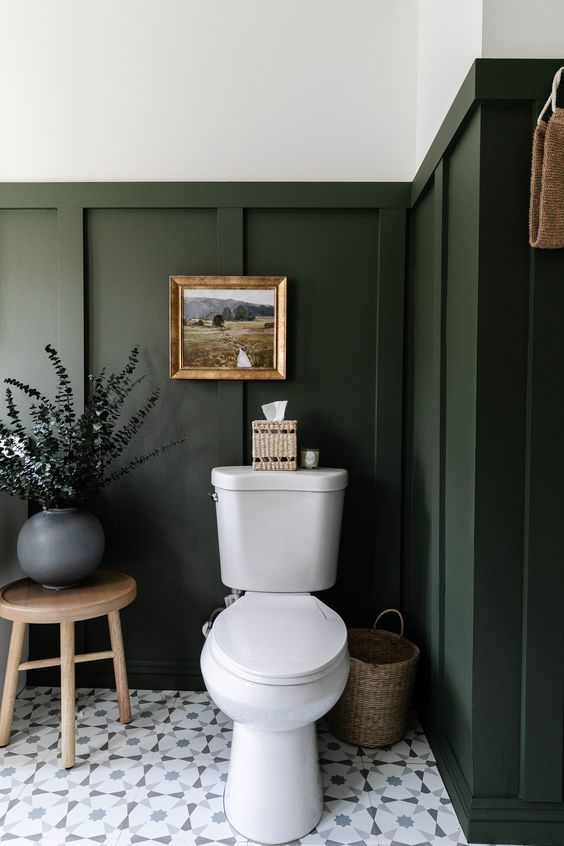 Never throw away old things. Because you can use it to make the bathroom walls look attractive. The old picture with a rough wooden frame gives a slightly old impression to the dark green bathroom.
8. Beautiful Wall Accent with Colors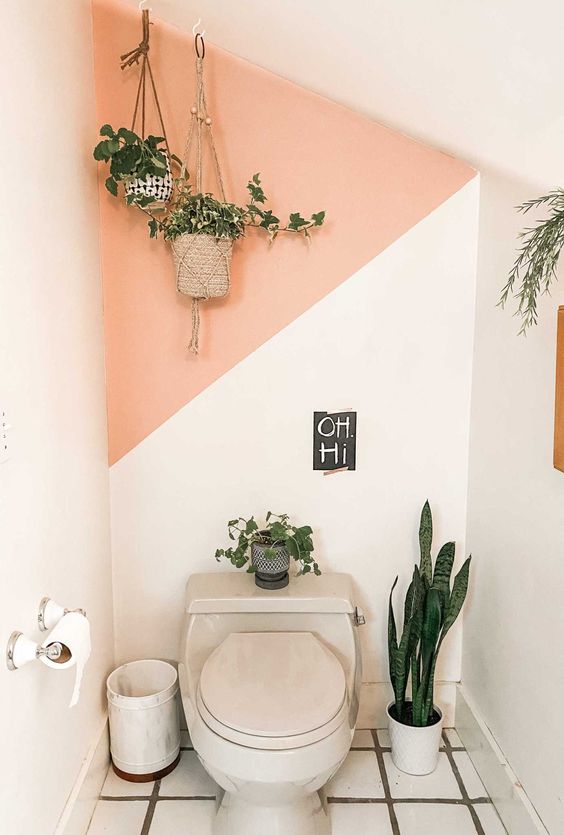 In making the walls look attractive, do not always use wall displays. As in the picture above, which utilizes color differences to give a different attractive impression. The combination of white and peach not only makes a small bathroom look bright but also feels cheerful.
9. Black and White Pictures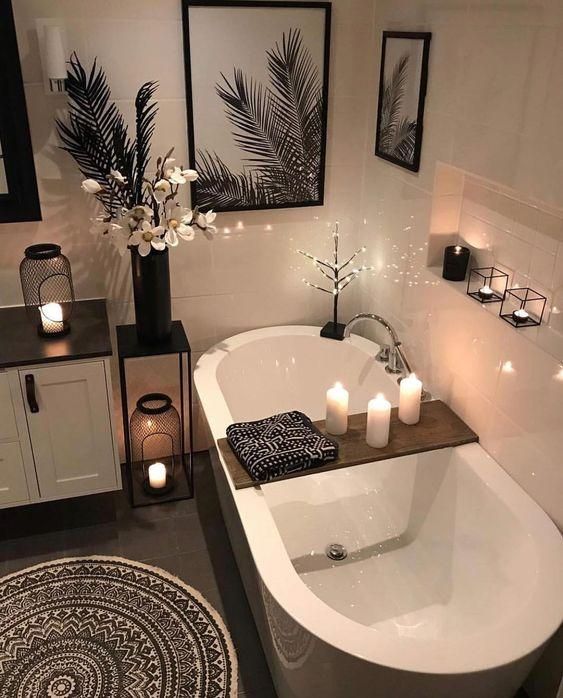 Wall displays with a black and white concept are no less interesting. This one wall decor is perfect for a bathroom with a monochrome, Scandinavian, and minimalist concept.
10. Beautiful View Painting
There are many pictures that you can choose to make the bathroom walls look beautiful. One of them is a picture of a landscape like a picture above. The sea view makes the white walls look more beautiful.
11. Artsy with Gallery Wall
For those of you who like art, this one decoration is perfect for you. You can turn the bathroom wall into a charming wall art gallery. Here, you can display various kinds of paintings with different themes. Make sure you paint the walls in a neutral color, like white or black. With this, wall displays can be seen more clearly.
12. White Exposed Brick Wall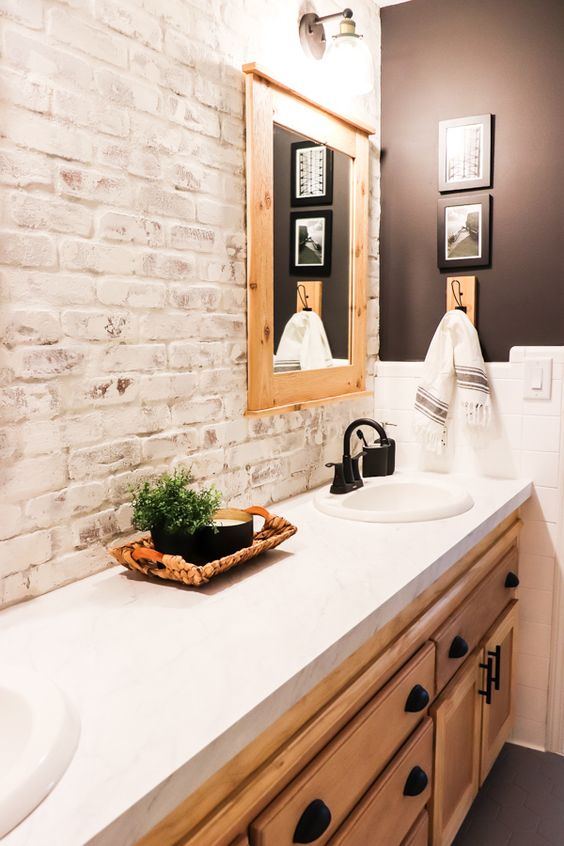 The exposed brick wall is indeed characteristic of industrial style. However, you can also apply an exposed brick wall in the bathroom with a minimalist concept. The texture of the exposed brick wall makes the wall look attractive even without any decorations. So that the bathroom doesn't look cramped, you can paint the exposed brick wall with white paint to give it a bright look.
13. Leaf Wallpaper Motifs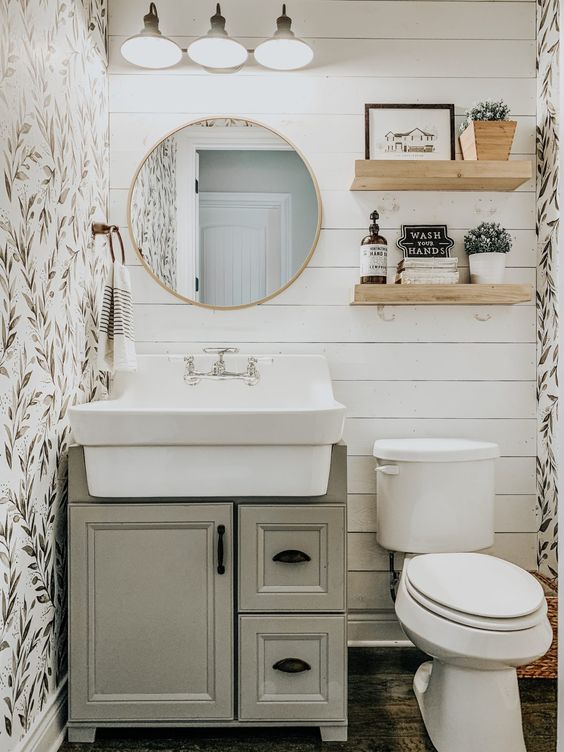 Leaf wallpaper motif is very suitable to be applied to a white bathroom. The green and brown colors of the wallpaper can give a fresh impression of this small room. No need to apply it to the entire bathroom. You can choose the left and right sides of the wall to make the bathroom look beautiful.
14. Flower Wallpaper Motifs
Want to give a fresh impression to the bathroom? No need to present plants in large quantities. You can use the walls to make the bathroom feel fresh. Like applying flower wallpaper motifs. This not only gives a fresh effect but also makes the bathroom look more beautiful.
15. Feel Fresh in Greenwashed Wall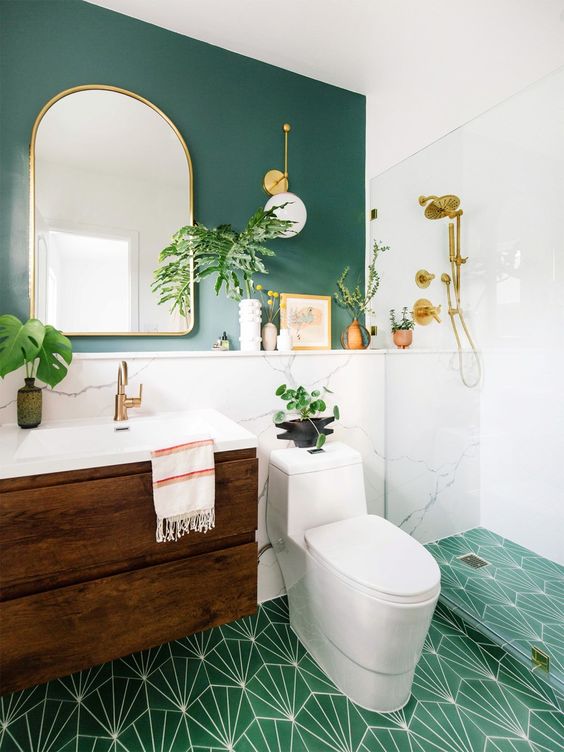 Usually, the bathroom is only filled with bright neutral colors, such as white. However, you can also use other colors in the bathroom. You can choose to paint the bathroom walls with green paint to give a fresh impression. With this, the bathroom will feel more natural and comfortable.
16. Wooden Floating Wall Shelves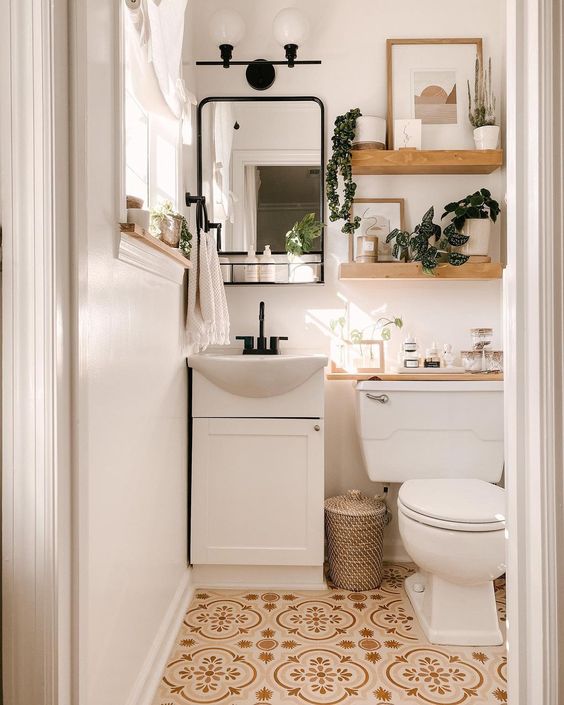 Wooden floating wall shelves become the next of 30 Attractive Bathroom Wall Decor Ideas. This one decoration is also an alternative way to bring additional storage space to a small room. On top of the floating wall shelves, you not only can put beautiful displays but also some shampoo and soap bottles there.
17. Basket for Wall Storages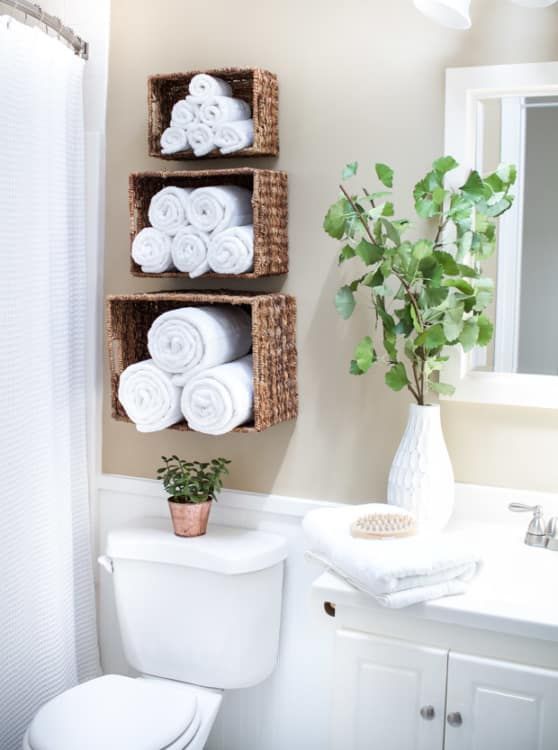 Next, there is a basket for wall storage. Just like floating wall shelves, this one decoration not only enhances the appearance of the bathroom but also adds storage space. You can put some towels or other items there.
18. Simple Wall Bathroom Displays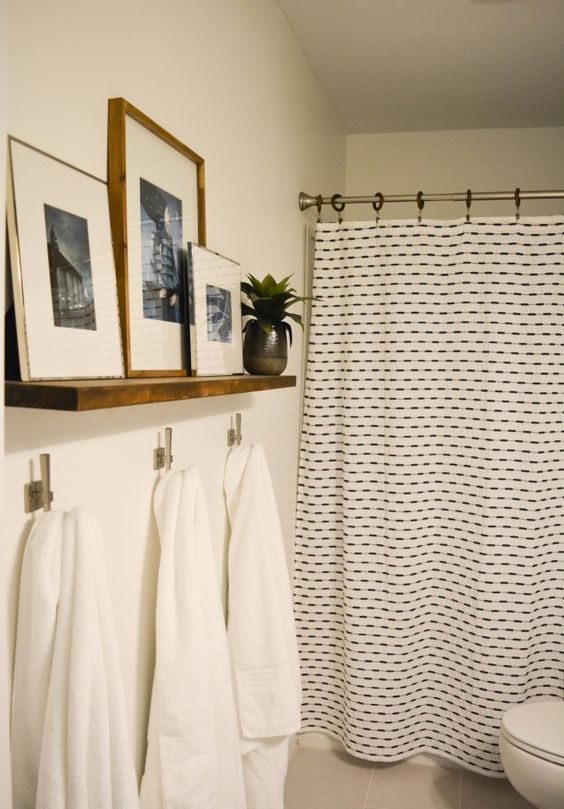 This one idea can be said to be the easiest way or idea to decorate a bathroom to make it look beautiful. Because what is needed in this idea is only a floating wall shelf and 3 or 4 pictures that have been framed. Here, you just need to put the picture neatly. And done! The bathroom looks attractive with simple things.
19. Minimalist with Oval Mirror without Frame
Mirrors are indeed an important item that must be in the bathroom. Even so, you can also use mirrors as decorations that can make the bathroom look attractive. Like the picture above, which uses an oval mirror without a frame to decorate a plain black bathroom wall.
20. Attractive Posters for Bathroom Wall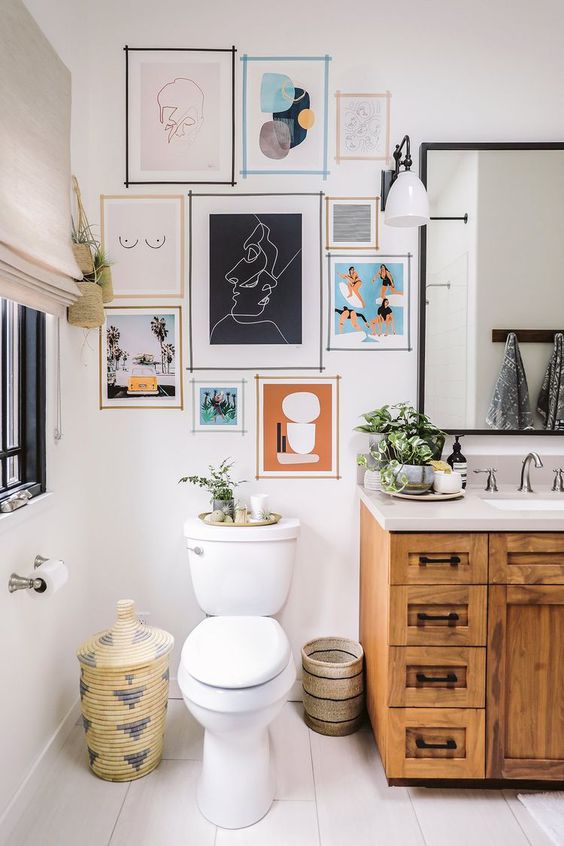 There is no need to give a frame to make the printed-painting look attractive when hung on the wall. Like this one decoration that only sticks posters on the wall. Then, given duct tape so that it is formed like a frame. This is also an on a budget way of making the room look attractive.
21. Interesting Glass Frame Wall Decor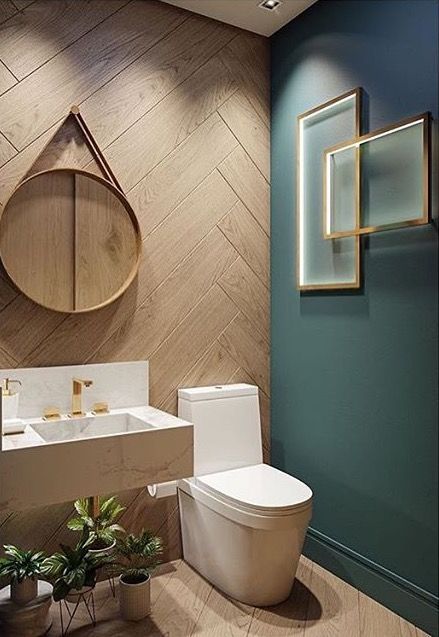 The next of 30 Attractive Bathroom Wall Decor Ideas is an interesting glass frame wall. Horizontal and vertical glass is given a gold-colored frame. And then LED lighting is also given to make it look beautiful when displayed on a dark wall.
This idea is a modern-style decoration that is very suitable to be applied to a modern and minimalist bathroom.
22. Small Pictures with Frame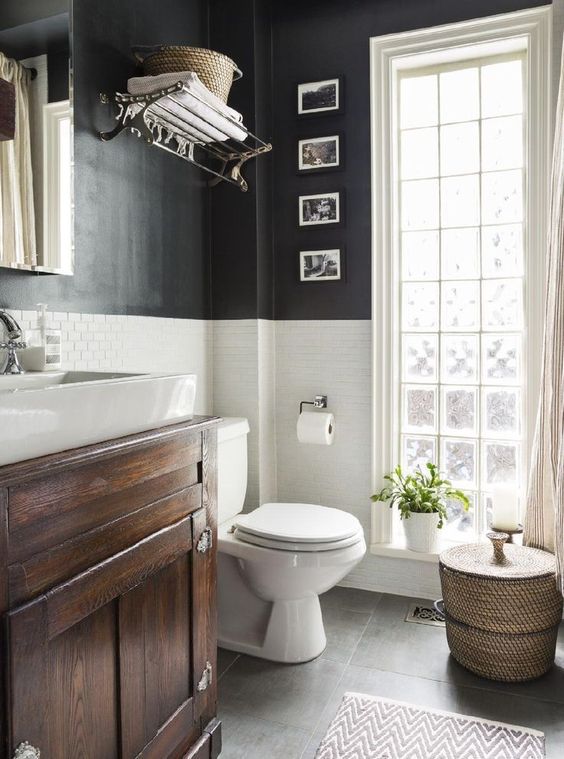 From the decorations above, we find pictures with large or medium sizes to decorate the bathroom walls. However, this idea uses a small picture to make the walls look charming. These tiny pictures are framed to make them look clearer when hung on the wall. The pictures that are hung vertically look so beautiful decorating the bathroom.
23. Sponge Accent Wall DIY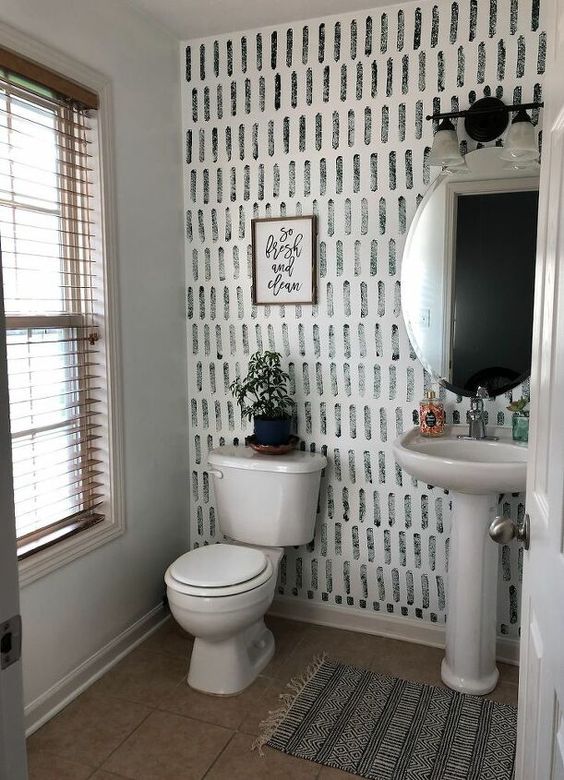 Want to give a motif to the bathroom wall but is hindered by the budget? Believe me, wallpaper is not the only decoration that can give motifs to the walls. You can also do it by yourself by relying on a sponge. You can dip the sponge in the paint you want and stick it on the wall like the picture above. And done! The walls look attractive with a very minimal budget.
24. Beautiful Small Plants on Shelves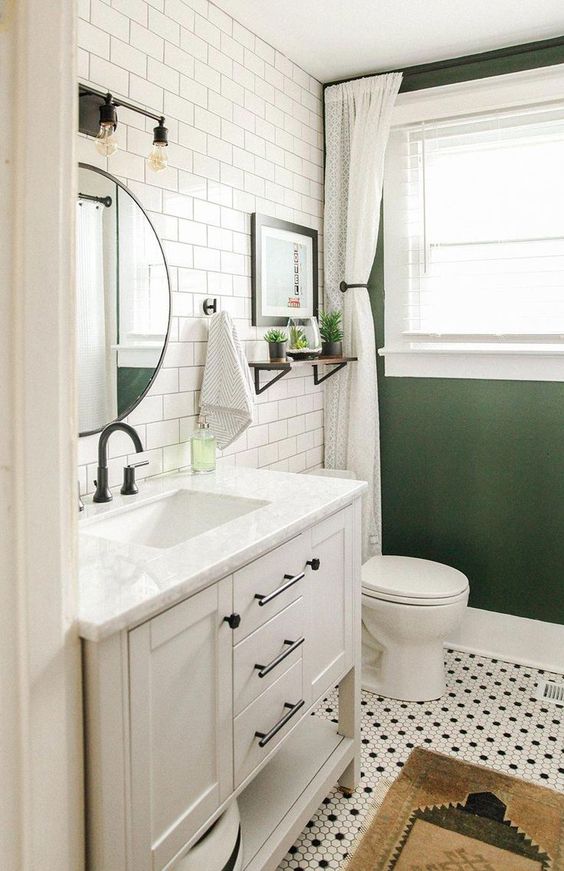 It feels like the room does not feel alive if there are no plants. Therefore, even though the bathroom is relatively small and cramped, the plants must be there.
If you no longer have space to put plants, you can use a floating wall shelf. And then put a little plant there. Small plants are the right decorations to make the bathroom feel fresh without taking up much space.
25. Stunning Abstract Painting with Gold Accent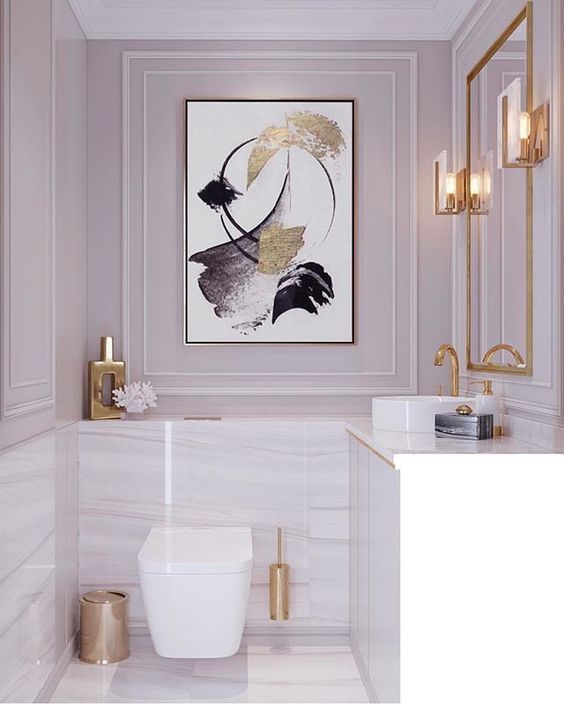 Abstract painting is indeed the most suitable for a room with a luxury and elegant concept. As in the picture above, the luxury bathroom with a soft pink concept looks so charming and feminine. Abstract paintings with gold accents there add to the beauty and expensiveness of the bathroom.
26. Map of Your Country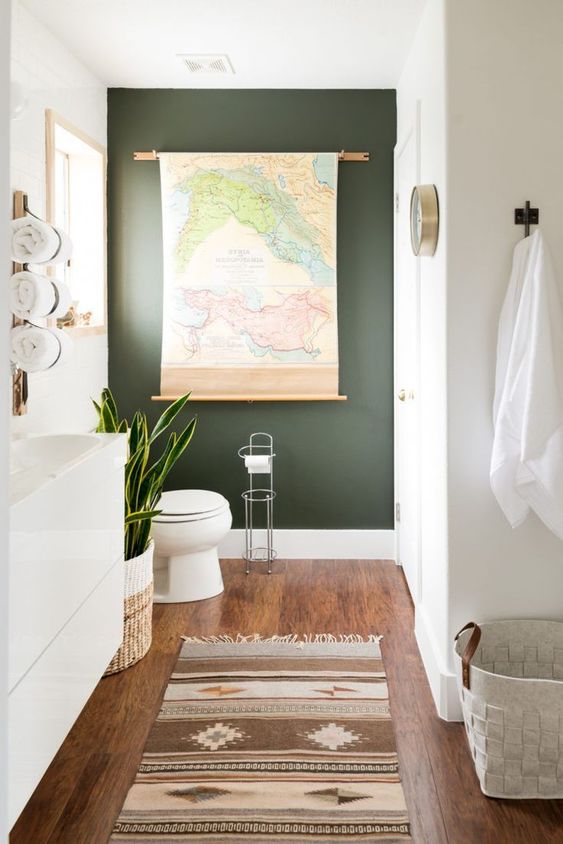 For those of you who are proud of your country, you can choose this one idea. Country map rolls are attractive decorations for bathroom walls. Especially if you get natural lighting that goes directly to the map, making it look more standout in this small room.
27. Beautiful with Mural Wall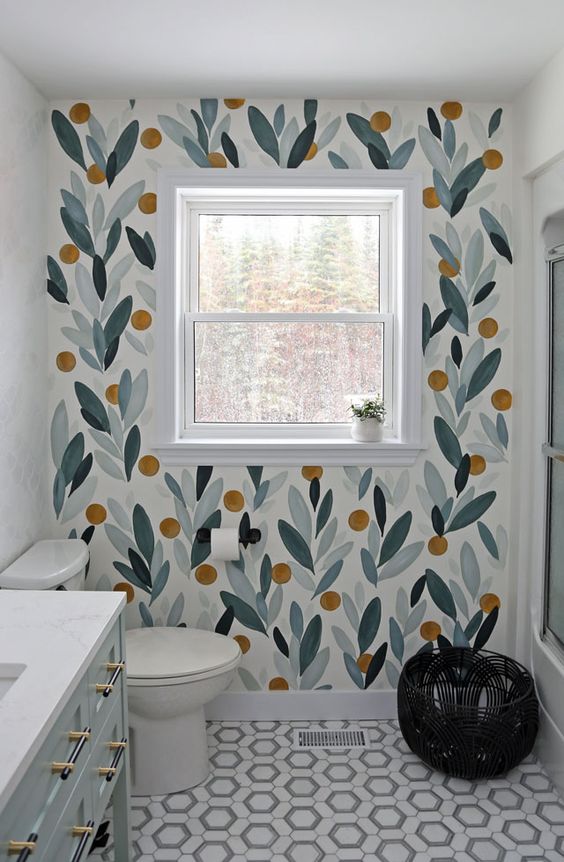 A mural wall is certainly not something foreign to us. Wall murals are often chosen to make the walls look beautiful and alive with beautiful pictures and colors. Like in this one idea. The mural wall was chosen to decorate one side of the bathroom wall with a white nuance. Green, gray, and yellow colors make a small bathroom feel more alive.
28. Geometric Wallpaper Motifs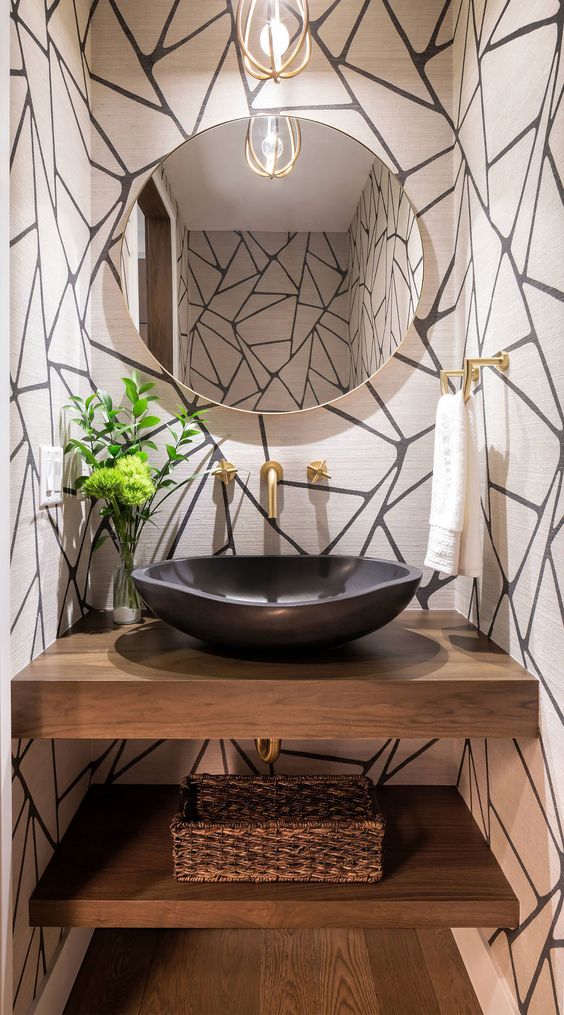 For a modern bathroom, a geometric wallpaper motif is the most appropriate decoration. Geometric lines make the bathroom look crowded without eliminating the minimalist side there. The base color of beige gives a bright and soft effect to the bathroom. Very fitting to be combined with black to give peace there.
29. Antiqued Mirror Wall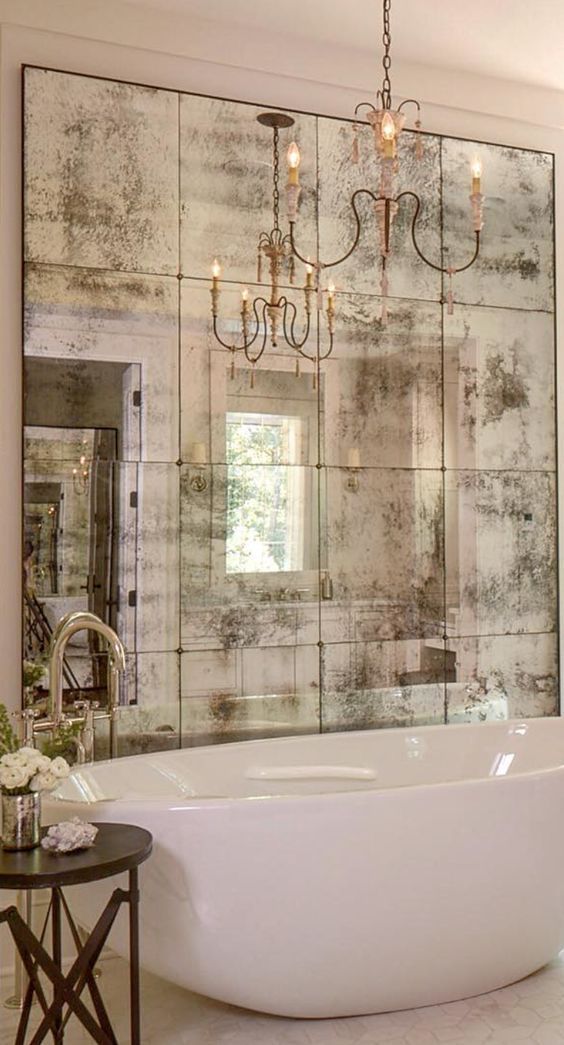 Mirrors with an old look are very attractive to be used as bathroom wall decorations. Several mirrors are combined to form a large rectangular mirror. Black accents on the mirror give a different and interesting effect on the walls of this room.
30. Metal Letters Bathroom Wall Art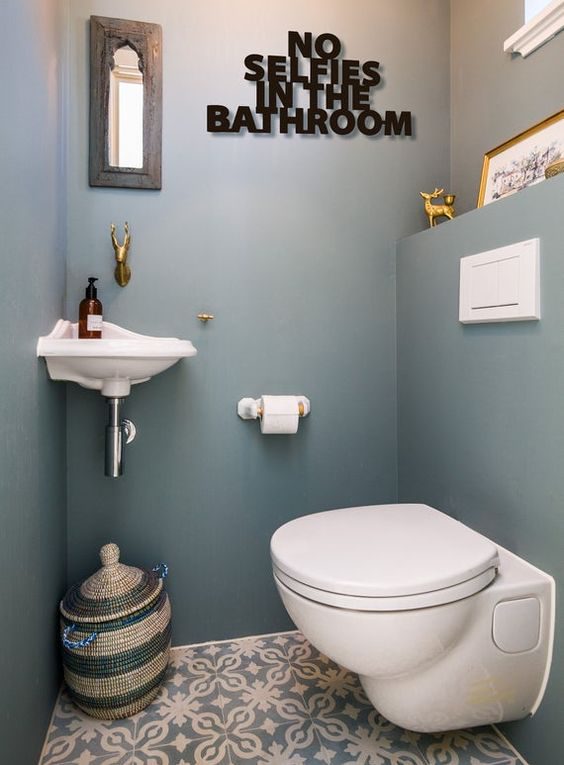 The last of 30 Attractive Bathroom Wall Decor Ideas is metal letters bathroom wall art. This idea is suitable for those of you who think the use of pictures is too mainstream for the bathroom. Letters with contemporary sentences will make your bathroom look up to date. Not only that, metal letters are perfect for small bathrooms with plain walls.
Final Words
Even though it is a small room, it does not mean you can underestimate the appearance of the bathroom. The bathroom is the room that is used the most. Therefore, making it look attractive is something you have to do. Try starting from the side of the wall. You can decorate the bathroom walls as attractive as possible. And the points above are 30 Attractive Bathroom Wall Decor Ideas that you can choose for your bathroom.